Muthaiga Open was held from 22nd – 23rd February 2020 at Muthaiga Golf Club. The 72 hole event attracted a field of 9 players.
Mutahi played a gross score 70, 73 and 73 a total of 216. This is the second time Mutahi Kibugu has won a KAGC event, the first one being Winston Churchil held at Thika Sports Club last year.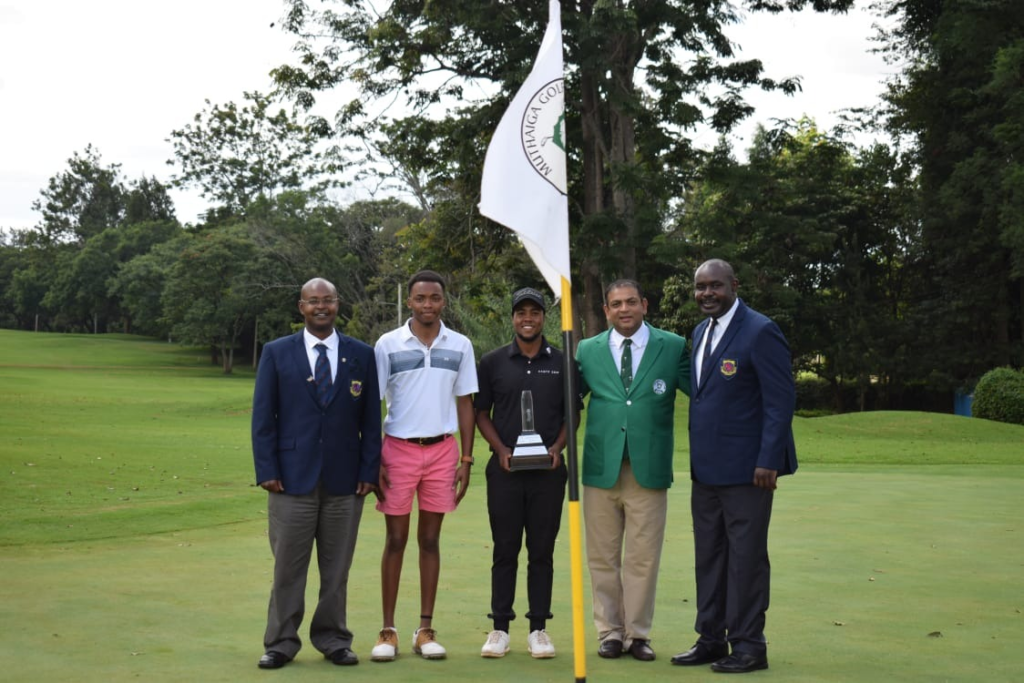 The Next KAGC event will be held at Kakamega Golf Club ( GoldFields Trophy) from 28th February to 1st March 2020.
2020 Muthaiga Open results
Mutahi Kibugu
70
73
73
Steve Kibare
75
71
72
CHANDARIA, Neer
77
70
74
NJOROGE, Samuel
72
76
74
Zurovac Leo
79
72
74
Karanga Mike
75
75
75
KISIA, Moses
76
76
74
NJOGU, Simon
75
79
75
MULAMA, Sammy
76
79
75
ANDREA, CHRIS
83
74
75
IRUNGU, Antony
79
76
77
GITONGA, John
76
79
77
CHANDARIA, Bhavnish
78
82
73
Koina, John
77
79
77
CIERA, Bo
77
78
79
RIMUI, Peter
74
81
79
KIARIE, Edwin
81
77
77
LEJIRMA, John
76
78
81
MAKOKHA, Isaac
82
78
76
KAMENCHU, James
80
77
79
OMONDI, Bernard
82
78
77
JUMA, Kevin
77
79
81
NJUGU, E N
78
76
83
KIBUGU, Njoroge
82
78
78
MAIYO, VICTOR
82
79
79
MURIMI, Ben
77
81
82
GITONGA, David
81
83
77
KARARI, Simon
86
77
78
SHAH, SHIVAM
81
79
81
Ngene, Mike
82
74
85
LAISI, Sampo
74
82
85
MACHARIA, Peter
90
76
76
NDUATI , Paul
82
80
80
KINUTHIA, Anthony
83
78
81
ADAGALA, Collins
76
83
83
RONO, Josphat
81
82
80
SHAH, SHIV
82
81
80
AGENGO, Emmanuel
79
87
78
MATANO, David
83
81
80
SODI, Aman
79
83
82
ODERO, ROBERT
81
79
84
VITISIA, Evans
85
83
77
DHALL, Kumar
78
86
82
KINYARA, B
82
86
79
BHACHU, Tejdeep
84
82
81
MANYWANDA, EDWARD
81
83
83
NJOROGE, Reuben
81
82
85
KITUR, Aaron
82
86
81
KOECH, Nelson
84
82
83
K'ANJEJO, Walter
87
83
80
ICHANGI, Joshua
81
85
84
ONSOMU, Andrew
82
81
87
NDUNGU, Duncan
81
83
87
MUNYUA, Frank
85
86
81
OROKO, Wilfred
89
81
82
KIARO, Steve
87
87
79
LANGAT, Reuben
89
82
82
Gakuo, Dennis
78
92
83
KUBWA, Reuben
88
84
82
ORINDA, STEVE
84
85
85
KIMANI, Edgar
84
85
85
BHABRA, R S
82
87
86
ALI, WASIM RAJAB
86
83
87
KOGO, Josiah
87
87
84
MUTAI, Kenduiwo
83
88
87
NGUGI, SIMON
88
79
92
LEMING'ANI, Rafael
81
95
84
KIMANZI, Fidhelis
86
92
84
KARANJA, Nicholas
88
84
90
GATHUMBI, Joseph
79
89
94
NGENE, Evans
87
85
91
Kanjumba, Macharia
90
87
87
CHESUMEI, Darren
91
85
88
BUTICH, Godfrey
86
87
91
ONDIGO, James
87
92
86
MUNYIRI, Ken
87
90
89
Korir, Noah
92
87
89
KOECH, Mathew
83
93
93
KARIUKI, J A
90
93
87
ONYINO, Walter
96
87
91
NYARIBO, H
104
99
96